FTTH Technology: Products & equipment for the fastest connection
Carriers, regional telecommunications providers and installers can find high-quality FTTH equipment to successfully implement fibre optic connections at the local level. EFB-Elektronik offers a comprehensive range of FTTH equipment. We also offer specialist consultation and support throughout your project as well as a variety of FTTx services. Together, we can make your FTTx network a total success!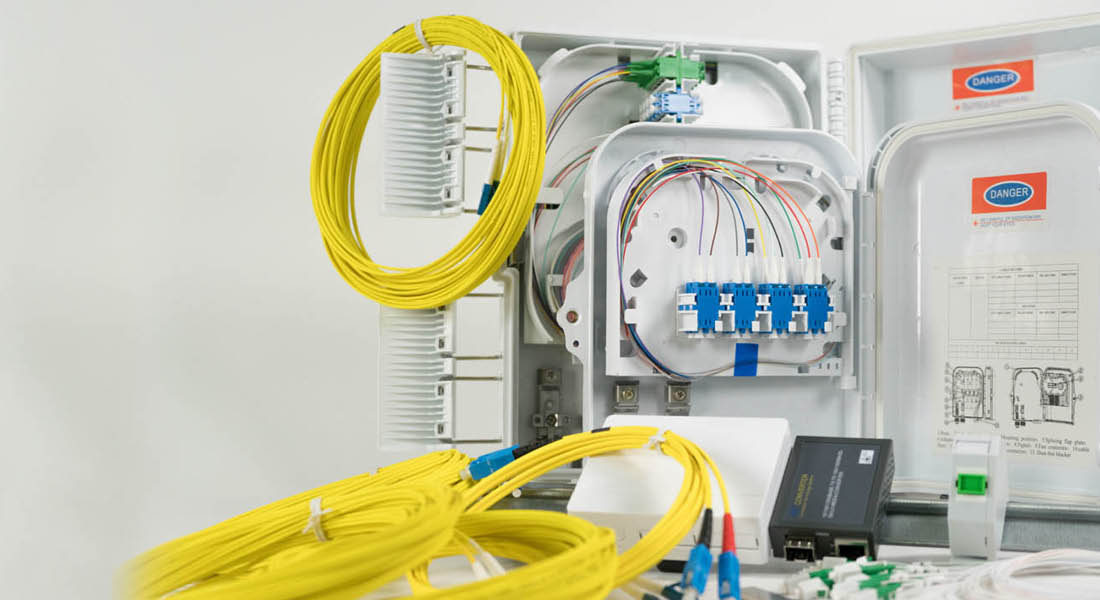 ---
High-quality FTTH equipment for a reliable network
The
FTTx program
of EFB-Elektronik features a selection of precisely coordinated FTTH components: Our product range includes everything from fiber optic installation cables to pre-fabricated components, FTTH distributors and boxes to ferrules and installation accessories. We have everything you need to professionally connect and install local fiber-to-the-X projects. Each component is moulded by our extensive experience as a system provider. When it comes to FTTH equipment, EFB-Elektronik is a partner you can trust. Whether you're looking for fiber optic workshops or consulting on network technology and fiber optic networks, we're here to help.
---
Connecting a FTTx network with junction boxes from EFB-Elektronik

Choosing the right junction box is a key component of any FTTx network. The FTTH junction box from EFB-Elektronik is rated
IP65
which means it is very reliably protected against the effects of weather. Protection class IP65 includes protection from water jets as well as dust ingress (dust-proof), making this FTTH box perfect for outdoor use. The junction box comes in various sizes and with various numbers of ports for the connection of optical couplers and FTTH splitters, depending on how it will be used. Junction boxes are available with anywhere from 144 to 2 ports.

Protection class IP65 for optimal performance outdoors
Various sizes versions (144 – 2 ports) for a wide range of purposes
Integrated tray for gathering excess fiber length
Access protection available with key or special screw as well as sealing
Integrated rotatable splice cassette for added flexibility (crimp and heat shrink splice protection)
144 to 8 port enclosures able to accommodate PLC splitters
---
Order FTTH cables & equipment online
For interior use, junction boxes and flush-mounted distribution boards of protection class IP 20 are sufficient. EFB-Elektronik also has products available for installation with top-hat rails. Visit our website to easily and conveniently order optical couplers and FTTH boxes in just the quantities you need. For tender documents and additional materials, see our planner page for
Planner's area
. In FTTH planning you have the support and guidance of specialist engineers from EFB-Elektronik.
---
Fiber optic jumpers, fiber optic pigtails & more FTTH accessories
To help you optimally equip your FTTx network, EFB-Elektronik offers a complete range of fiber optic accessories. From MDIC (micro-drop installation cables) to fiber optic pigtails and connecting sockets, we offer high inventory availability for all our products. To receive individually pre-fabricated, customised fiber optic cables as quickly as possible, use the
fiber optic configurator
.
---
EFB-Elektronik: FTTH equipment, consulting & services for your FTTx projects
EFB-Elektronik is one of the leading manufacturers of networking equipment. We offer a complete range of high-quality data and networking products to our customers in the installation sector, specialist retail and wholesale. Our comprehensive service offerings also include support throughout the entire project. The knowledgeable team of experts at EFB-Elektronik can even help you develop professional complete systems, customised for your needs. Our specialist engineers are sure to find a solution for you!
---
Request a free consultation on fiber-to-the-home networks